Real customers, real experiences.

More Excellent Customer reviews for 2015, 2016……2022 https://reverb.com/shop/Tone-Guard/feedback

Shawn Hammond, Editor in Chief
Premier Guitar Magazine 2013

Quoted from Shawn in his own article: "Wayne Richman at Tone- Guard pickguards was incredible. When I called him about buying one of his anodized-aluminum pickguards for a Tele Custom, but with a Jazzmaster-pickup neck route—a design for which he didn't have a CAD file yet—he didn't even blink. After seeing a pic of my guitar, he opened his Fender Tele Deluxe rendering file, called me up, and knew exactly which areas to have me measure. He tweaked his file's measurements a bit, then marshaled his NASA-approved vendors to make sure something that normally takes weeks happened over a weekend. That's some serious hustle!" - It's a Mod, Mod, World Issue - March 2013


11/19/2014

Keith Urban's Danocaster Strat

Dan's comments: "yep.. he loved it - and the guard and trem cover looked awesome"




5/31/14
I had a kid in the guitar store ask me who made these. I gave him your website info.
Also the guy who installed it said "That is one of the coolest guitars I've ever seen." Thanks man.
Photo by: Brandon Stallard, Copper Pickguard and Control Plate with custom made Indian Head Copper Penny Knobs.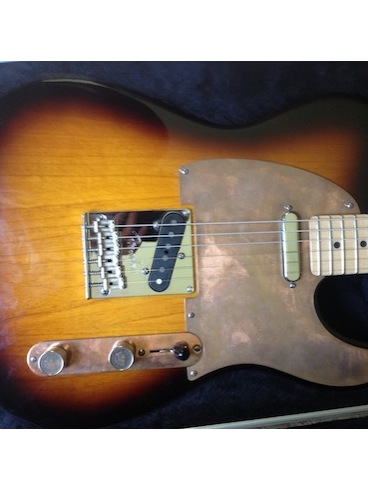 4/28/2011

Eric from San Francisco sent us these pics of his custom pickguard.
Eric started with a custom brass cut and later had it polished and chrome plated.
Eric does tech work for Sonic Youth, Wilco and other bands. Nice job, Eric!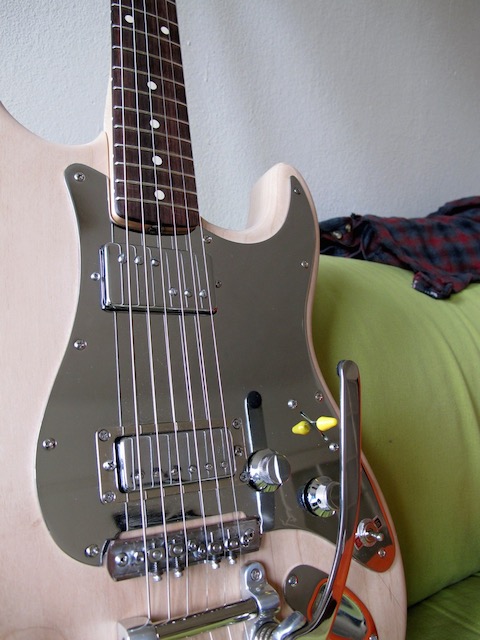 9/30/10

From Gabriel Hoffman of Hoffman Guitars:

Wayne,

We did finally use that pickguard on a guitar for Nels (Wilco), and he's very happy with the guitar! I'm afraid he doesn't really like to do endorsment deals, though. The pickguard is great though. It went on a imported Allparts body, so I'm afraid I can't say much about the fit on a real Fender, but it seemed very good to Woody (our Jazzmaster guy - he works on a LOT of JM's, and makes the Mastery Bridge for Jags/Jazzmasters, and such, and is Nels guy for repair work). The workmanship and finish on the pickguard were top notch - very nice work.

Sorry that we had you rush everything on a pickguard that didn't get used for so long. I'm afraid the nature of Nels/Wilco's touring scedules make that happen from time to time. Again, thank you for your very fine work.


Gabriel Hoffman
hoffmanguitars@qwestoffice.net
www.hoffmanguitars.com
612-338-1079 (fax and phone)

6/5/10
I also upgraded a Muddy Waters Telecaster I have with the Silver Pickguard

It took away the static problem and made the pick-ups sound so much better.
Really Cool Stuff.

Bob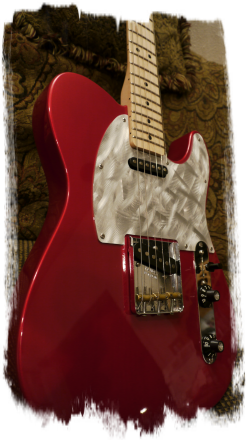 12/1/09

Jeff Marshall posted these nicely staged pics and comments about his Fender Strat®. Photos by Jeff Marshall.

I usually prefer a more "sinister" look to my guitars, so a white Strat is way out of character to me. The minute I played this one though, it became one of my main guitars. It's a Jimmie Vaughn model, with the perfect fading V neck that my hands seem to like (my Baja tele is the only other one I've found with this exact neck). It came with a standard white/black/white pickguard and I hated it. The mint green one I had lying around made a huge improvement along with aging the knobs/pickup covers...but I've always been wanting to find a better solution. After pimping out my Invader with tone-guard's bridge lately, I found this ivory crinkle pickguard that solved all my problems. The strat PG showed up today, and I immediately did some surgery! It fit perfect and looks great. We're supposed to have sun here tomorrow in Seattle, if so I'll take some pics and post them.

Here are some before and after shots:


Before: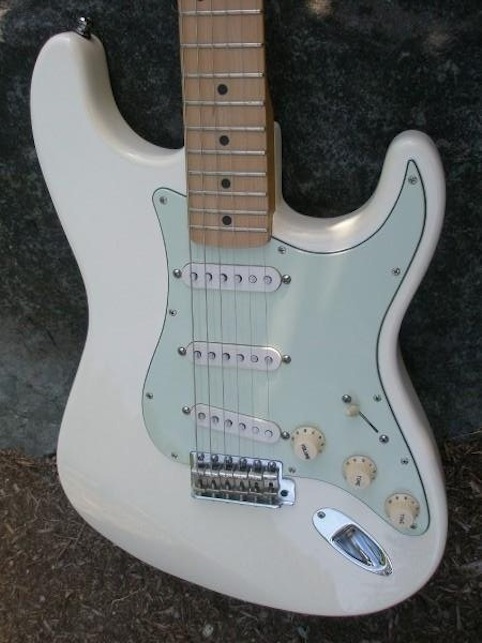 After: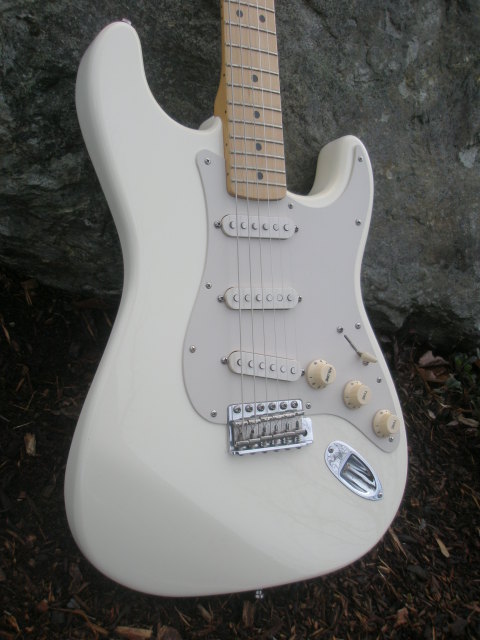 11/30/09

Josh Adams wrote:

Thanks Wayne, the guard looks fantastic and is having some kind of good tone on my sound. This guard was for the Silver '95 G&L ASAT, so it's got those fat single coils that are already pretty hot. The guard seemed to just beef up the overall tone of the guitar. I've not pinpointed it yet, but so far it seems to have made my single coils sound more humbuckery. I'll send a pic soon. :) thanks


11/24/09
Comments and Pics by Emmitt Omar. Telecaster® HB with a White Crinkle pickguard.

It looks beautiful and fits just fine. No problems. I did drill holes for the pickup mount and did as you said. Carefully. It worked fine. Looks great and works great. Glad we did this.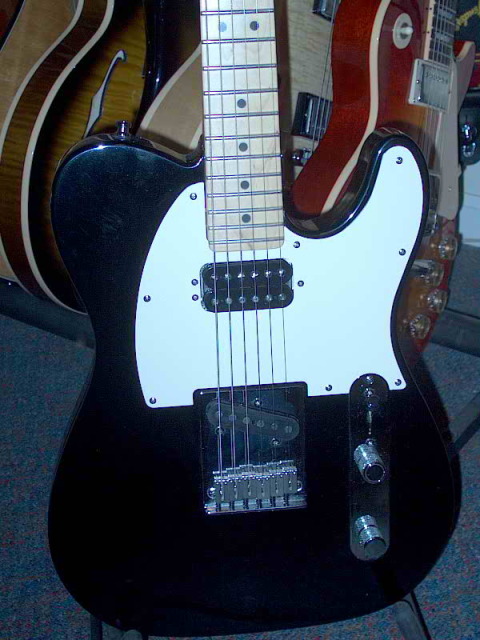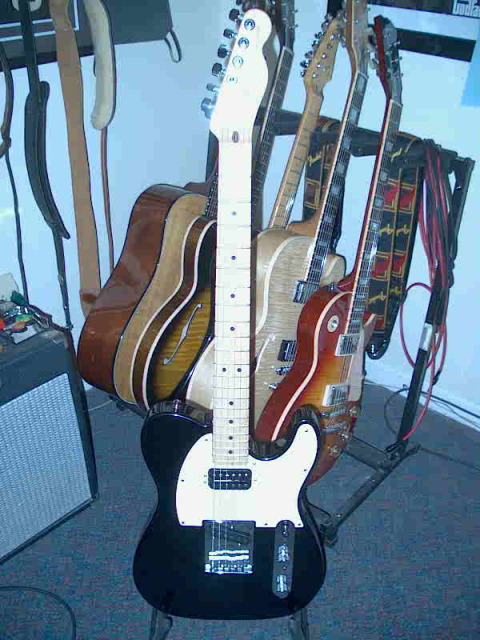 11/18/09

Jeff Marshall posted these nicely staged pics and comments about his G&L Invader. Photos by Jeff Marshall.

Thanks to Thumbs and Tone-Guard I put some new knobs and bridge on my tribute Invader....off with the chrome and on with the black.

Thank you, Jeff! That Invader looks fabulous, glad we had something for you to really make that guitar YOURS. Enjoy!


Before: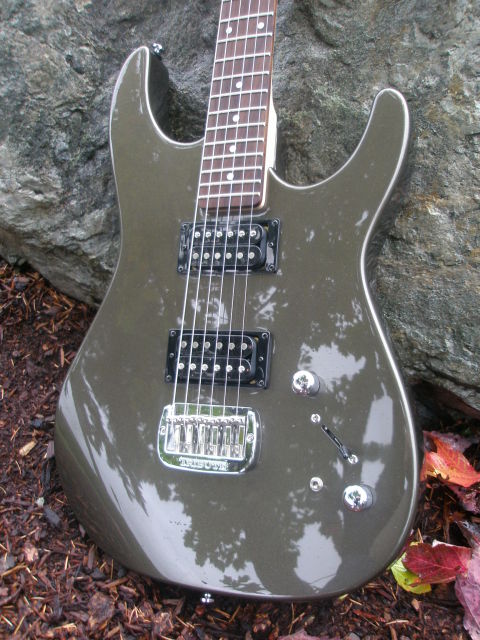 After: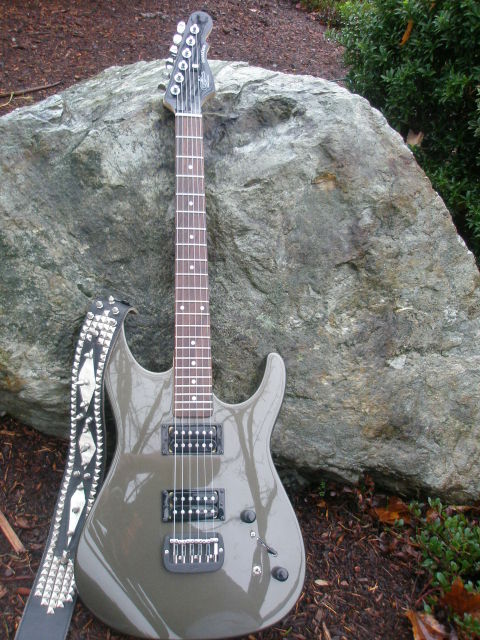 10/06/09
Jim Hammond posted these pics and comments.
Photos by Jim Hammond.

I just installed your replacement 'guard on my 1986 G&L ASAT, on which a prior owner had installed a plastic pickguard. Not only does the guitar now look correct but the hum issues I had been experiencing have been largely eliminated, letting me really explore the guitar's tonal range. Excellent product - it's awesome that someone is making these products, and to such a high standard.

Thank you, Jim! For your business and your pics. It makes us happy to hear from you, a satisfied customer.

The 1986 ASAT's are my favorite Tele shape guitar. I love that burst finish on yours, pretty fancy axe you've got there. What tone!

Here's a "before":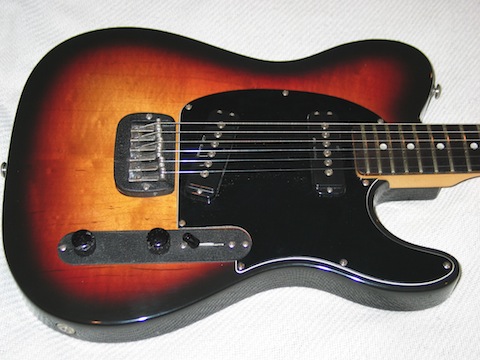 And here's after: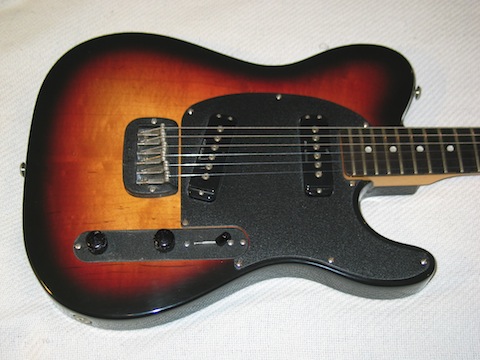 9/20/09
Wayne Brough posted these pics and comments.
Photos by Wayne B!

Here are a couple of pics of my guitar with a new Tone-Guard. It use to have a red tortoise shell guard but it was not my cup of tea. I like the way it looks now and thanks Wayne.

Thank you, Wayne! For your business and your pics. Glad we were able to get you the correct color you wanted.

Very nice looking S-500 you've got there!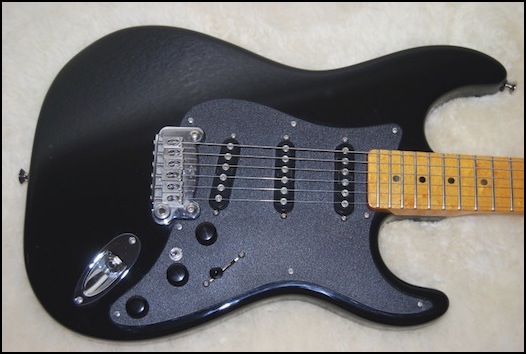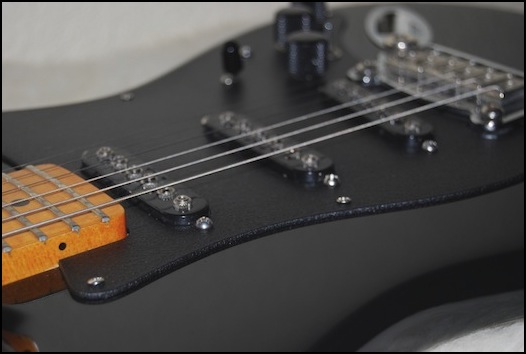 9/10/09

Paul Piche posted his satisfaction with our product and our service. Photos by Paul.
Thank you, Paul! For your business and your pics.
Sweet looking ASAT Special you've got there!

Thanks Wayne and the folks at Tone-Guard!

I admit it, I bought the new guard for its looks and nothing else, I kept seeing other ASATs exactly like mine and I wanted to personalize mine a bit. I like the way it brings out the nut and string tree. I have only played it a bit tonight since putting on the new guard but it sounds "punchier"...? Maybe it's because I've been playing my S-500 straight for weeks.

Wayne kept in great contact with me after I ordered the wrong version. (My ASAT is 3 bolt not Modern!) Wayne assured me that my satisfaction was guaranteed and I never doubted it. I ordered one for my S-500 before I got my ASAT guard back. That one will be for looks and to kill some hum.

Thanks again Wayne!

Before: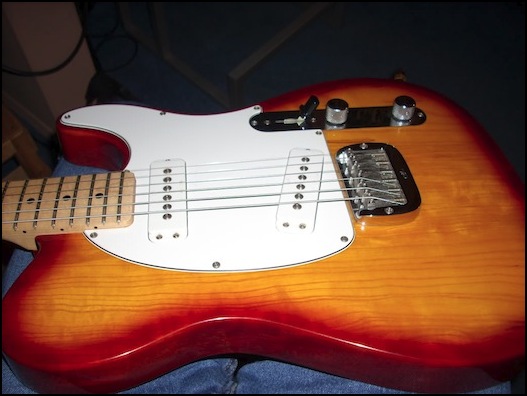 After: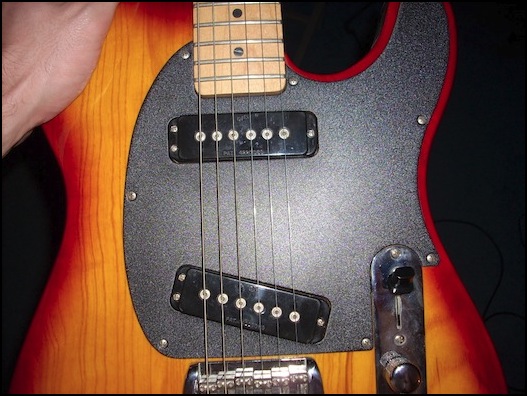 8/26/09
Will Ross with his G&L S-500. What a beauty!
Photos by Will.

Alright, I have had it installed for a couple days. Long enough for
observations, but not yet performed with on stage... yet.

Read below the 2 pictures.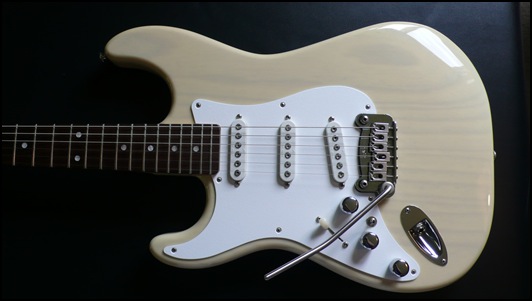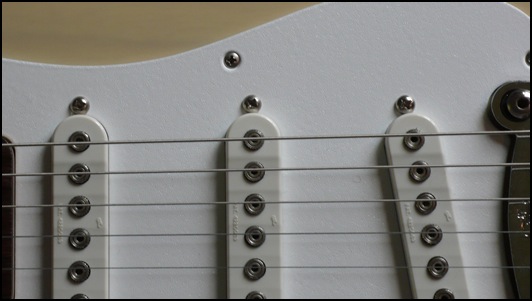 Unplugged, the guitar now resonates like a resonator guitar. It must be the pickup pocket/bathtub design. Also, neck handling is amplified: I have yet to experience this with any other guitar. From tapping the neck to sliding across the frets. Plugged in, the pickups now grab more sound. What I mean is that the guard amplifies and reflects more. During my "tests", I noticed that it's as quiet as my Arpeggio w/ SD HB's. This is a big plus!

So, this mod really changed the instrument. Now it has more utility for me; not just another Strat on Steroids. It looks great too. The next test will be how others receive it. This G&L will be pulled-out for my next live performance and we'll see how it goes...

Cheers,
Will


Custom Ebony Buffalo Nickel Knobs.
Photo by Tim Page.

Made for the Buffalo Bros' Bob and Tim Page. Visit their fabulous
guitar store when you are in Carlsbad, CA or on-line.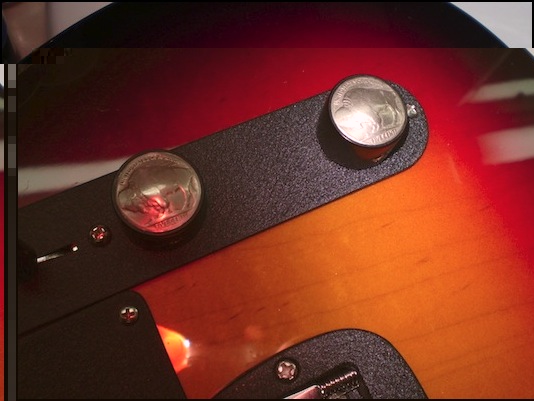 8/25/09

Tom's ASAT Special. Beautiful Black Lady indeed!
Photos by Tom.
Thanks for the nice comments and the pics!
I just installed the powder coated aluminum pickguard that I bought from Wayne. The first one Wayne sent did not fit so I removed my original guard and sent it down to Wayne and he matched it. According to Wayne my original guard matches those made in the 87-91 time frame. This is interesting because the serial number places my guitar at around 97. The difference between the new style guard that Wayne originally sent me and the old style guard lies primarily in the placement of the neck pickup. Apparently, the neck pickup in the older ASAT's is slightly closer to the neck than the neck pickup in the newer ones. My ASAT came with a powder coated control plate and bridge and when Wayne opened up his company, Tone-Guard, I knew I had to buy a powder coated pickguard to match. I love the way the new guard sets everything together. It's very cool. My ASAT is named, "black lady" by my wife and she absolutely loves this guitar over all the others that I own. I'll never be able to sell it. The new pickguard received her approval.

One thing that surprised me about Wayne's pickguard was how nice and thick it is. It is not a flimsy piece.

Thanks Wayne for a job well done.
Tom

"Black Lady" Lounging Out, With Strings and Ready To Play - Pics by Tom.